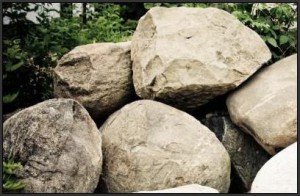 The use of boulders has become particularly popular in landscaping efforts, serving as an aesthetic symbol or purposeful focal point. Granite boulders are versatile and can be smoothly incorporated into any type of architecture or landscape. Use boulders to line gardens, walkways, and paths, or to create terraced berms that can be used for planting and breaking up a slope. Our selection of granite boulders come in various shapes and sizes. The cost of the boulders that you choose are dependent on size and weight. Typical boulder sizes range from 12 inches to 48 inches or larger.
---
Our sandstone slabs are one of our "top sellers" and are extremely popular with landscapers and homeowners alike. This 24 inch to 48 inch (or larger) stone has been used in hundreds of  landscape projects featuring natural stairways, patio steps, water features, and retaining walls. Slabs are also a unique backdrop to inscribe company names, family names, or addresses as a focal point of landscaping. Unlike the manmade concrete slab, a natural sense of beauty is dominant in the presence of each of our uniquely formed slabs, making them a perfect blend of functional and beautiful.
---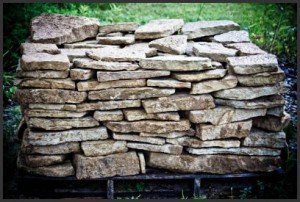 At Keeney Sand & Stone, we offer our flagstone rock in thicknesses of approximately 2" to 4"  with the ability to cover about 50 to 60 square feet per pallet. Smooth enough to walk on, these unique stones are perfect for patios and walkways. Other popular uses include small retaining walls, fire pits, water features, chimneys, and decorative siding. Flagstone is also great for enhancing entrances to commercial and corporate buildings. The touch of natural materials can offset the oftentimes industrial tone certain buildings possess.
---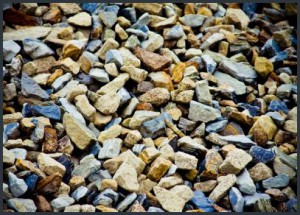 You have several sizes of processed stones to choose from when you come to Keeney Sand & Stone.
#12 stone – 1 to 3 inches in size, these stones are mainly used as base aggregates, however, they are useful as a unique filler for gardens, under decks, or other empty spaces.
#47 stone– This golf ball sized stone is often used over our #12 stone or #4 x 8 stone as a top layer to even out a surface. It has also been used to fill holes in areas such as gravel driveways, trails, and paths.
# 4×8 – 4 to 12 inches in size, these pieces are also used as base aggregates, but may also be useful for small retaining walls, erosion control, and fireplaces.
Rip Rap – This chunky stone is mainly used for erosion control and measures anywhere from 4 inches to 12 inches in size.
We also provide clay fill, fill sand, and #304 (mixture of #47 and fill sand) – all are highly affordable and ideal for use as backfill material.
---