Keeney Sand & Stone, Inc. is a family-owned and operated business that has served Lake and Geauga Counties for over 30 years. It is owned and operated by Kevin Keeney.
Original ownership of the property dates back to the late 1800s by J.H. Harrison. During that time, quarry deposits were used to build foundations for local homes and farms.
In the 1950s, D.R. Keeney of Keeney Excavating, purchased the land from Harrison. The property sat idle until the early 60s, when American Construction began to haul shot rock to be used in the construction of what would become U.S. Route 90.
In the 1970s, shot rock continued to be hauled from Keeney Sand & Stone. This rock was used in the building of the First Energy Perry Nuclear Power Plant.
In 1989, Keeney Sand & Stone became Keeney Sand & Stone, Inc. This brought about its current use as a processing mine. Materials from Keeney Sand & Stone have been used in countless commercial job sites, parking lots, driveways, backfills, and landscape projects throughout Lake and Geauga Counties. Chances are that your home might sit on a foundation of our sand, you may have driven or parked your car on our material, or you may have seen our slabs or boulders in a beautiful landscape or water feature. We take pride in the fact that we provide quality material to meet your needs.
Materials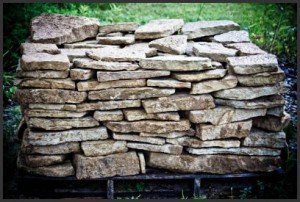 Our stone will serve as a durable base for driveways and parking lots. Our fill sand is highly compactable, a perfect material choice for foundation backfill jobs. We have a large variety of stone slabs and granite boulders for use in landscaping, retaining walls, or waterfall features.
Please contact us for prices on materials and a list of local trucking brokers.
It is our goal to meet your needs while providing competitive wholesale prices. We are a family-owned and operated business and we will treat you like family.